WHAT ARE LEAN-TO CONSERVATORIES?
Also sometimes called a Mediterranean conservatory, or garden rooms, the lean-to is a very simple style with clean lines and a fresh, modern look. The origin of this type of structure lies in greenhouses which faced southwards towards the sun, providing shelter from northern winds. With a simple roof and great flexibility, this is a really popular choice for anyone looking to improve their living space.
This style could be perfect for you if you're after a straightforward, understated sunroom. They're built to look as though they're leaning against the property. Lean-tos tend to be smaller than other conservatory types.
BENEFITS OF LEAN TO CONSERVATORY
A lean-to conservatory gives you maximum space in a very efficient and economical way. The pitch of the roof on a lean-to is variable but tends to be lower than other styles of conservatories. There is also a selection of different styles of roofs such as glass or even tiled.
A lean-to conservatory is also versatile enough to serve as anything from a playroom to a diner, lounge or a kitchen. It can trap the sun, even in winter, and improve your property's energy balance.
Our modern conservatories comply to current building regulations for thermal performance and therefore are much more thermally efficient. This means keeping your conservatory warm in the winter and cooler in the summer.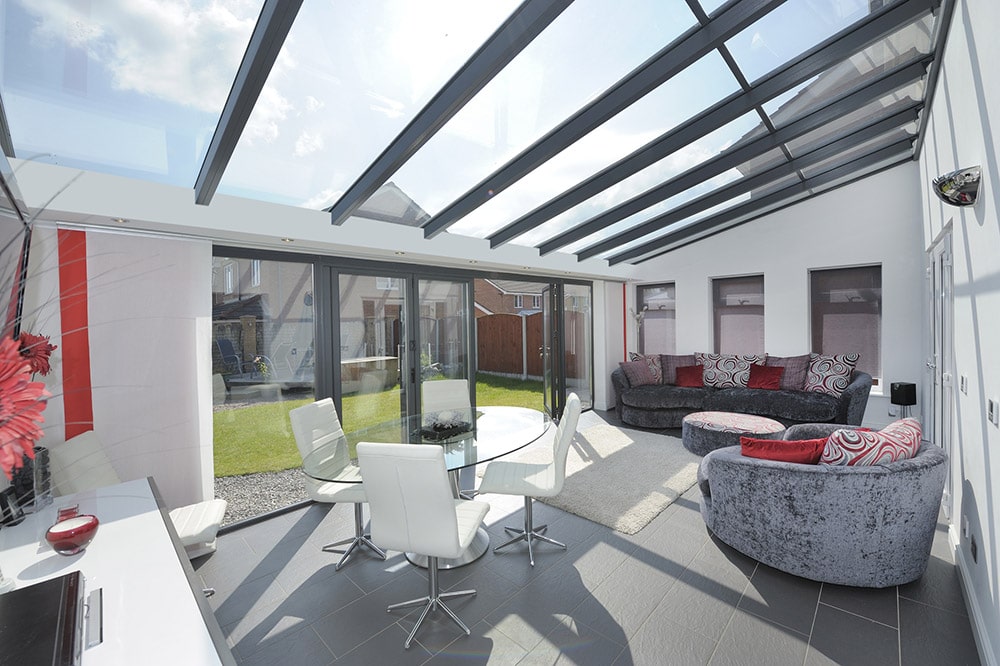 OUR LEAN-TO CONSERVATORIES
Bring more than a hint of the Med to your home with a highly versatile lean-to sunroom. Whether you're going for a traditional appearance or something more modern. You can expect high standards of construction and completion, plus an array of colour and finishing touches from glazing to lighting.
The doors and windows which make up the conservatory have been certified as 'Secured by Design' by the Association of Chief Police Officers, giving you extra peace of mind.
Lean To Conservatory TO YOUR SPECIFICATION
Lean To Conservatories can be tailored to match your home and style, choose from different finishes, features, handles and more!
DOOR DESIGNER
Design your perfect windows with our easy-to-use casement window designer