WHAT ARE PATIO DOORS?
Patio doors are a modern, smart-looking addition to your home. They're also often called sliding or sliding patio doors.
Patio doors slide without friction along a track and open to the side. Usually, there are two or three panels which slide and overlap, with one panel always staying in a fixed position.
These models open up your home to fresh air and light, offering uninterrupted views of the outside world.
THE BENEFITS OF PATIO DOORS
Patio doors can be fitted to much wider openings than some of the alternatives. They're also ideal if you're working with limited space, since they don't open in the same way as French doors. You can slide them fully open or leave them ajar, just as you wish.
These units also enhance your home's overall appeal, add value to a property, are very safe and secure despite the extensive glazing, and highly energy efficient.
What's more, if you enjoy entertaining in the summertime, leave them open and guests can wander in and out as they wish. They're a lot more affordable than you may have realised.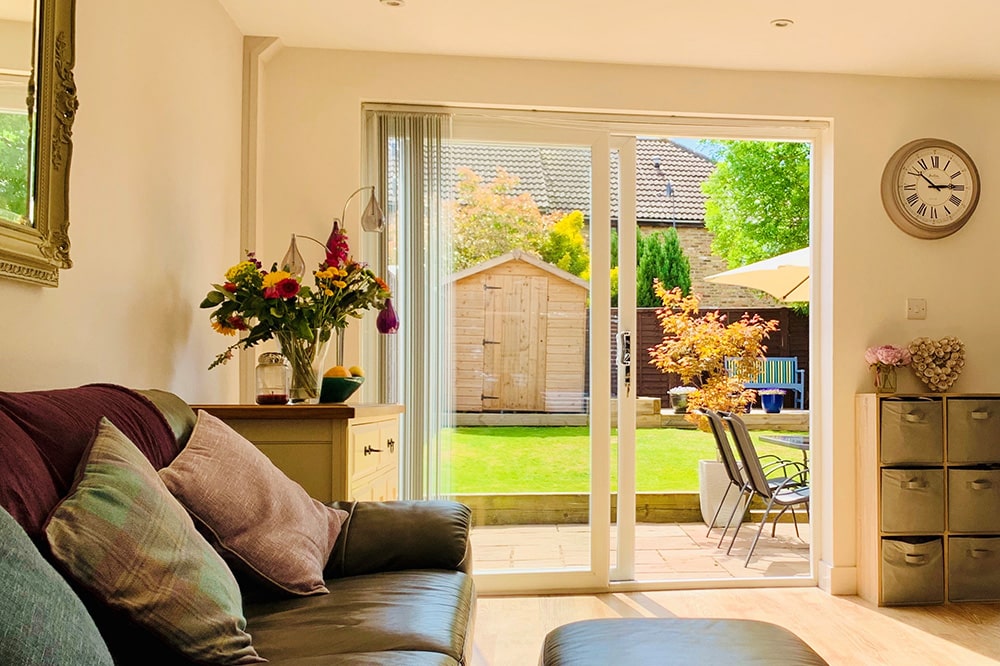 OUR PATIO DOORS FROM PLATINUM NRG
Our Patio Plus models from Platinum NRG has ultra-slim sightlines to maximise natural light.
A multi-wheeled 'air-glide' running system provides a smooth, quiet operating action. The ModLok™ modular locking mechanism is pioneered by Yale, the country's most famous lock maker. This gives our doors enhanced security and are Secured by Design-certified by the Association of Chief Police Officers.
To finish the look, decide what colour handles you want. There's plenty of choice to suit your patio doors.
The unique five-chamber system stops cold outside air from entering, while the high-performing double or triple-glazed units far surpass today's energy performance standards. The uPVC with are designed to eventually be recycled, so they're kind on the environment as well.
Patio Doors TO YOUR SPECIFICATION
Our patio doors can be tailored to match your home and style, choose from different finishes, features, handles and more!
DOOR DESIGNER
Design your perfect windows with our easy-to-use casement window designer