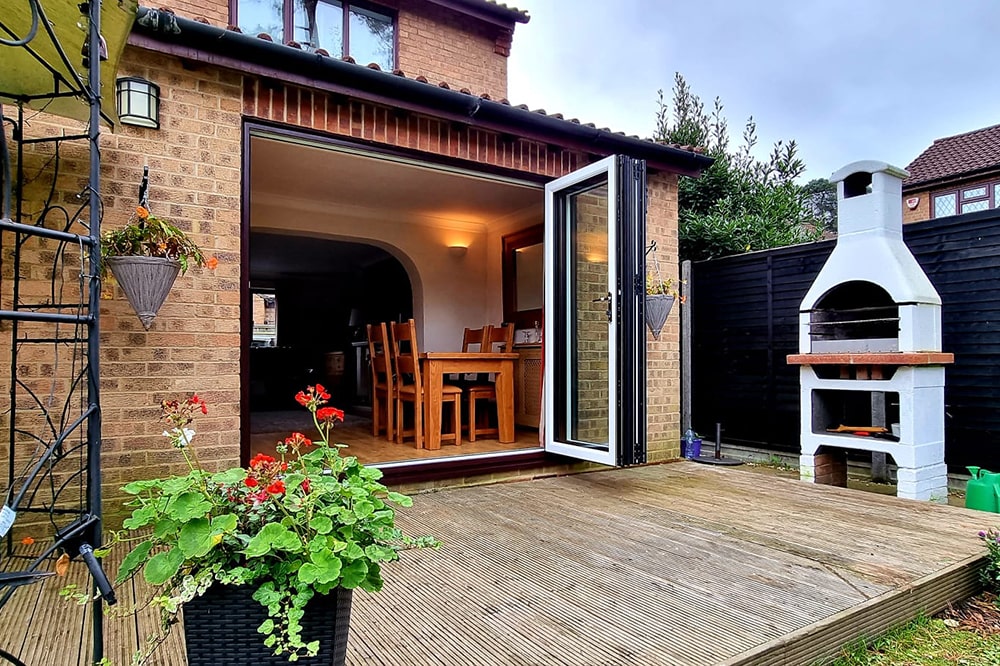 Bi-Folding vs. Sliding Doors – The Pros And Cons
When considering bi-folding doors vs. sliding patio doors, the first thing to say is that each type of door is hugely popular. Bi-folding or sliding doors are also a great addition if you're building a conservatory or extension in a bid to let more natural light into your home.
People often ask us about the differences between the two, so in this blog, we're comparing them both to help you make an informed decision for your own home.
Why are bi-fold and sliding doors so popular?
It's not hard to see why both sliding and bi-folding doors are so sought after, since both offer excellent ways of merging the inside and outside worlds of your home and garden, flooding your space with natural daylight and framing the view of your garden or other scenic outside area.
They are also great options if you're replacing a window with patio doors and have sizeable wall space on either side or if you want to replace two smaller windows to create a single bigger opening.
Sometimes bi-fold or sliding doors are also used to replace French doors.
Excellent extensions
If you're planning an extension for your property, you'll probably design a space with more room for wider doors than you previously had. This makes sliding patio doors or bi-folding doors the ideal choice for opening up this space and creating a better transition into the garden and your outdoor seating or dining area.
What are bi-folding doors?
Bi-fold doors are constructed from a series of folding panels which concertina up against the wall, opening up all the available space in a way that standard single-leaf doors don't. Typically, these models are built from either uPVC or aluminium.
What are sliding doors?
Sliding patio doors are usually made up of two large sliding panels, one fixed while the other slides open. In some instances, where there are particularly large openings, there is the option to have a single or double fixed panel in the middle, with a sliding panel either side.
Just like their bi-folding counterparts, sliding patio doors are also made from either uPVC or aluminium.
Comparing bifold and sliding patio doors
At R&M, people often ask us about the main differences between bifold and sliding patio doors. While these models share some similarities, each type also has distinguishing features, and these will help you decide which is more suitable for what you need for your property.
#1 Aesthetics – which looks better?
In truth, both of these kinds of doors can look very stylish and suit a broad range of homes. That includes period or more traditional-looking dwellings.
Bi-folding doors will display a greater frame area since they're made up of a greater number of smaller panels than their sliding counterparts. So if you want to maximise your view of the outside world by minimising the frame area whilst the doors are closed, then sliding doors are probably the better choice.
#2 Opening space
Both types of doors offer a considerable amount of space on opening, but here bi-fold doors may just pip sliding ones at the post, since they open fully, look superb and when opened up, seriously help break the barriers down between the inside and outside worlds.
With sliding patio doors, there is a single fixed panel, so that they usually open up halfway or possibly slightly more, but never 100%.
#3 Which type is more user-friendly?
Ease of use of doors may well be another consideration for your household. Sliding patio doors are actually easier to operate since you just slide them open and closed.
For their part, with bi-fold models, you need to go through a few more steps to open and close them. When it comes to locking them, all of the locking points of each panel (sometimes as many as seven or more panels) must be engaged. This means that, when comparing bi-fold and sliding patio doors, bear in mind that bi-folding models take slightly longer to open and close, lock and unlock.
#4 Affordability
When it comes to the affordability aspect of bi-folding doors vs. sliding patio doors, you'll find that bi-folding doors are the more expensive option. That's because bi-folding doors require a large frame area and more locking mechanisms (for each panel). Sliding patio doors require less framing and locking mechanisms as it tends to be just one opening part.
#5 Maintenance
The good news is that both sliding patio doors and bi-fold doors are pretty low-maintenance. Since both are made from weather-resistant uPVC or aluminium, neither requires much upkeep beyond a quick, regular wipe-down with a damp cloth. However, if forced to choose, we'd probably say sliding doors need slightly less TLC, given that they tend to have fewer frames, locks and panels to worry about.
#6 Soundproofing
Both bi-folding and sliding patio doors come with double glazing as standard. However, there are options for triple-glazing and even acoustic glazing if you really want to reduce noise pollution. Acoustic glass is particularly beneficial if you live in a built-up area, under a flight path or have noisy neighbours.
#7 Security
The good news when comparing bi-folding doors with sliding patio doors is that both provide a high degree of security thanks to their locking systems, secure glazing and strong frames.
Energy efficiency
Our Aluminium bi-folding doors are the only ones on the market today that meet the new building regulations for thermal efficiency. Our sliding patio doors are also A-Rated! So whichever you choose, you can be sure you're getting the best energy rating on the market!
Looking for new patio doors?
At Bracknell-based R&M Windows, we supply a broad range of replacement doors and windows across our local area, including in Ascot, Wokingham, Maidenhead and Windsor. We sell and install both sliding patio and bi-folding doors, alongside a number of other home improvements, from front doors to conservatories and orangeries.
We won't give you the hard sell. Get in touch today for an informal, no-obligation consultation.